The Destiny 2 30th Anniversary pack and event for Bungie's birthday is here, and it's brought new activities, Halo-themed loot, one of the largest Destiny 2 balance updates ever, and the Moments of Triumph event with it. The Anniversary Pack is also your ticket to accessing the new Grasp of Avarice Dungeon and quest for the all-powerful Gjallarhorn Exotic Rocket Launcher from Destiny. Players can also participate in the new Dares of Eternity gameshow, run by Xur and Starhorse, and celebrate their Moments of Triumph until the launch of The Witch Queen. Here's what you need to know about the Bungie 30th Anniversary Pack and special celebration event for Destiny 2.
Destiny 2 Tracing the Stars 1 | Destiny 2 Tracing the Stars 2 | Destiny 2 Tracing the Stars 3 | Destiny 2 Enigmatic Mysteries Shattered Realm | Destiny 2 Ascendant Mysteries Shattered Realm | Destiny 2 Ager's Scepter
Destiny 2 Bungie 30th Anniversary dates
Destiny 2 Bungie 30th Anniversary start date
The Bungie 30th Anniversary event in Destiny 2 is live now, along with the 30th Anniversary Pack, Moments of Triumph event, and the mega balance update, which you can read about below.
The premium and free Bungie 30th Anniversary content, however, is permanent (Destiny Content Vault sunsetting permitted), so you do not need to worry about an end date for that, as confirmed by Destiny 2 game director Joe Blackburn.
not going anywhere anytime soonJanuary 3, 2022
See more
We know that Moments of Triumph will end as The Witch Queen launches on 22 February, 2022, to give Guardians plenty of time to get through the challenges and Triumphs for the activities of the last year.
Destiny 2 Bungie 30th Anniversary explained
What is the Destiny 2 Bungie 30th Anniversary?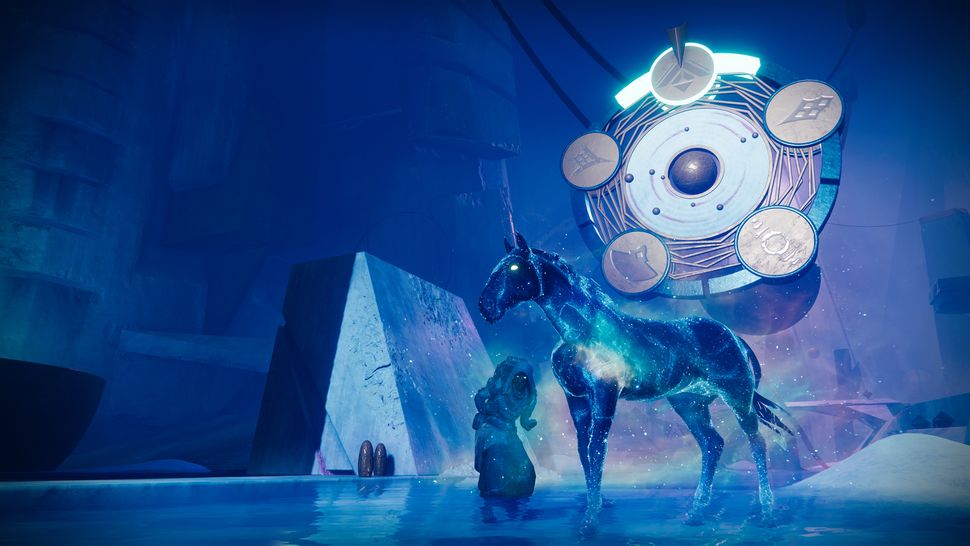 Bungie, the development studio behind the Destiny franchise, is throwing a big party in Destiny 2 to celebrate the studio's 30th birthday, including crossovers and references to several of its previous game franchises. This is in the form of the free Bungie 30th Anniversary celebration event and the premium Bungie 30th Anniversary Pack. An important point to clarify is that these are technically separate things that are both currently available. So, how do they differ?
The special Bungie 30th Anniversary event is free to all players and includes a new six-player, matchmade Offensive activity called Dares of Eternity. This is a gameshow-like activity that sees hosts Xur and Starhorse pitting Guardians against rounds of enemies and bosses with a range of mechanics, including powerups and a bonus lightning rounds. Players can earn gear from successful dares, including new Destiny 2 Halo guns and Bungie-themed weapons, such as the BrX-55 Battler Pulse Rifle, Half-Truths Sword, and Wastelander M5 Shotgun. Players can also get bounties and rewards from Xur in his new Treasure Hoard area.
The Destiny 2 Bungie 30th Anniversary Pack, however, is a premium downloadable content pack that you must buy, similar to a regular annual expansion for Destiny 2. You can buy the pack on your platform store of choice on its own for £21.99/$24.99, or as part of the Destiny 2 Witch Queen Deluxe Edition + 30th Anniversary Bundle for £87.99/$99.99 which also includes The Witch Queen expansion and all its deluxe extras. Be aware that the pack only works on the platform you buy it on, even if you have cross-save enabled. For example, if you buy the pack on Xbox and then switch to playing Destiny 2 on Steam, you will have to buy the pack again on Steam to access the pack's content.
Destiny 2 Bungie 30th Anniversary Pack content
What do you get in the Destiny 2 Bungie 30th Anniversary Pack?
If you get the Bungie 30th Anniversary Pack, you'll unlock lots of new things for yourself in Destiny 2. The main thing you'll want to try out is the new Grasp of Avarice, treasure-themed Dungeon, which starts off in the original loot cave in the Cosmodrome. From this Dungeon, you'll be able to earn an armour set for each class themed around the Thorn Exotic Hand Cannon. You can also get fan-favourite Destiny 1 Legendary weapons, such as the Eyasluna Hand Cannon, Matador 64 Shotgun, and the 1000-Yard Stare Sniper Rifle. Bungie has also thrown in a new sword inspired by the Claymore Sword from Myth.
Destiny fans will also be overjoyed to see Gjallarhorn's return as part of the Anniversary Pack too. To get the Destiny 2 Gjallarhorn, you'll need to complete a quest from Xur. You'll need to head into the new Dungeon and complete it as part of the quest too, so get a couple of fellow Guardians to help you out. Gjallarhorn's Exotic Catalyst can also be obtained from the new Dungeon too, which gives Gjallarhorn an extra rocket in the tube and defeating an enemy with a Wolfpack Round causes another faster and more powerful Wolfpack round to spawn where the enemy was.
As for armor, you'll be able to deck out your Guardians with six armor ornament sets (two for each Class) themed around Bungie's history. Titans, Hunters, and Warlocks all get a Marathon-themed armor ornament set, which is earned by ranking up your Strange Favor with Xur and spending Treasure Keys on the chests in Xur's Treasue Hoard.
Owners of the Destiny 2 Bungie 30th Anniversary pack can also instantly unlock the Bungie Streetwear sets which include plenty of nods to Destiny, Bungie, and even Halo. The Warlock's dark, scaley coat and silver segmented armor is clearly inspired by the Arbiter from Halo, while Titans have a distinctly Master Chief-esque green helmet/orange visor combo, denim jacket, and a shoulder pad covered in Needler crystals. Finally, Hunters get a purple Bungie hoodie, a gas mask helmet, and big shoes which give them an almost Grunt-like appearance. You can get these sets by Speaking to Xur in his Treasure Hoard and grabbing the Resplendent Reward Package.
There are plenty more cosmetic items available in the Bungie 30th Anniversary Pack for Destiny 2. All players can get a Legendary helmet ornament that looks like a Tiger head, and emotes, shaders, and emblems are up for grabs by completing Triumphs in Dares of Eternity and the Grasp of Avarice Dungeon. If the return of Gjallarhorn wasn't enough, enthusiasts of the rocket launcher can also unlock the Gjallarswift Sparrow and the Hraesveglur Exotic Ornament.
Destiny 2 Moments of Triumph 2021
Moments of Triumph 2021 has arrived in Destiny 2
The Bungie 30th Anniversary event isn't the only celebration going on. The traditional Destiny end-of-year event is also active now, allowing players to unlock new rewards by participating in activities from Year 4 of Destiny 2 – that's everything from Beyond Light and the seasons since. Players have until February 22 2022, the day The Witch Queen launches, to get their rewards from the event.
You can get the usual custom t-shirt to show off your triumphs in real life, but you can also get a real pin badge of the new MMXXII in-game Seal and title. Destiny 1 players may be pleased to see that you can buy yourself a real Strange Coin as a reward too. As for in-game loot, Destiny 2 players can earn new emblems, a Sparrow, and a Ghost Shell to commemorate the event.
Destiny 2 Bungie 30th Anniversary balance patch
Destiny 2 also got a mega Anniversary balance patch
Even with the Bungie 30th Anniversary celebrations adding in lots of new cosmetic items, weapons, armor, and a few activities, Destiny 2 also received one of its biggest balance patches to date. While we won't go through all the patch notes, we've assembled a list of notable changes for Subclass Abilities, weapons, perks, mods, and Quality-of-Life.
Subclass Abilities:
Every Subclass Ability – that's every Grenade, Melee, Class, and Super Ability – now has an individually tuned cooldown time and has been rebalanced too
For example, Arc Hunter Flux Grenades will now have a cooldown of 182 seconds, up from 82 seconds, and no longer have tracking projectiles, but are now sticky, thrown faster, and can one-hit kill Guardians in PvP
Super Abilities are now separated into cooldown tiers, with Well of Radiance being the fastest charging Super ability and Spectral Blades, Fists of Havoc, Hammer of Sol, Glacial Quake, and Winter's Wrath being the slowest
Super ability regeneration now relies on dealing and taking damage, rather than passive regeneration and kills
The amount of Super energy regeneration depends on the target type you are damaging and the source of any damage you take
Stasis Crystals now slow enemy Guardians in PvP instead of freezing them, and the Stasis Crystal detonation damage has been reduced in PvP, but the detonation radius has been increased
Hunter Dodge has a slightly increased cooldown at higher Mobility stat tiers, and it no longer breaks tracking on things like rockets and other projectiles
Shatterdive has been nerfed a lot, mostly due to Stasis Crystal changes
Titan Shoulder Charge abilities can no longer one-hit kill in PvP
Warlock melee speed has been increased and ranged has been reduced to match Titan and Hunter melee
Handheld Supernova for Void Warlocks will no longer one-hit kill in PvP
Weapon Balancing:
Linear Fusion Rifles, Bows, and pellet spread Shotguns have all received PvE damage buffs
Vex Mythoclast has had its aim assist nerfed and now requires three Guardian kills to become fully Overcharged instead of two
Fighting Lion's reload buff has been improved and now activates when any damage is caused with the weapon instead of damaging multiple targets at once
Arbalest now has intrinsic Anti-Barrier rounds
Sleeper Simulant has a 4-shot magazine – up from 3 – and now deals an extra 6% damage in PvE
Cryosthesia 77K has received a rework to make it more useful, particularly in PvE
Whisper of the Worm's Whispered Breathing perk from the catalyst now activates faster, White Nail now auto-fills the magazine with two shots from reserves and creates one (instead of pulling all three from reserves), and its PvE damage has been increased by 10%
DARCI is getting improvements to its Personal Assistant perk and a 20% damage buff in PvE
Malfeasance explosion damage has been increased by 50%
Heir Apparent Exotic Catalyst shield damage resistance has been reduced from 75% to 25% against enemy players
Weapon Perks and Mods:
Lots of ability energy-regenerating Armor Mods, such as Grenade Kickstart, Outreach, and Dynamo, have had the amount of ability energy they regenerate reduced for PvP modes
Ability energy-regeneration reductions for PvP modes have also been added to lots of Exotic Armor, such as Heart of Inmost Light, Doomfang Pauldrons, Contraverse Hold, The Stag, FROST-EE5, and Shinobu's Vow
Adrenaline Junkie is now similar to Swashbuckler in that it grants a stacking damage buff that instantly reaches x5 with a grenade kill
Vorpal Weapon causes primary ammo weapons to deal even more bonus damage to bosses, but heavy ammo weapons will get a smaller damage bonus
Whirlwind Blade nerf for Swords means the perk now has 10 stacks instead of five to reach its maximum damage bonus
Pulse Monitor now activates when you have 30% of you shield remaining, instead of 90% of your health remaining so it will activate for more frequently
All Destiny 2 players have a new mod called Full-Auto Retrofit which makes any Hand Cannon, Sidearm, Scout Rifle, or Pulse Rifle fully automatic. This is a temporary solution to an accessibility feature that will be replaced with a better one sometime after The Witch Queen launches
Quality of Life changes:
Armour Mods no longer cost Glimmer to slot in and can be applied to armor instantly
Third-party Destiny 2 apps, such as Destiny Item Manager, can apply Armor Mods, weapon perks, shaders, ornaments, and Ghost projections on your behalf
Accessibility improvements in the form of less intense lighting and visual effects to make them better for photosensitive players
Dreaming City weapons drop more frequently from successful Blind Well completions
Exotic ornaments for Exotic Armor and Weapons can be previewed and purchased through the inspection screen
General fixes and improvements to The Corrupted Strike to make it less horrific
Console players can see the text chat currently only available on PC platforms to read messages, but they cannot use it to type their own messages
Destiny 2 Tips | Destiny 2 Crucible tips | Destiny 2 Class guide | Destiny 2 Heroic Public Events | Destiny 2 Aspect of Destruction | Born in Darkness Destiny 2 Beyond Light guide | Destiny 2: Beyond Light Entropic Shard guide | Destiny 2 Season 15 mods | Destiny 2 Season 15 exotics | Destiny 2 anti cheat