Thor: Love and Thunder is hitting theaters around the world, and along with the God of Thunder himself and Jane Foster, the new Thor, there are plenty of other deities in the film, including some of the gods of Olympus, such as Zeus.
If you haven't seen Thor: Love and Thunder yet, we're about to get into some mild spoilers about one of the film's post-credits scenes.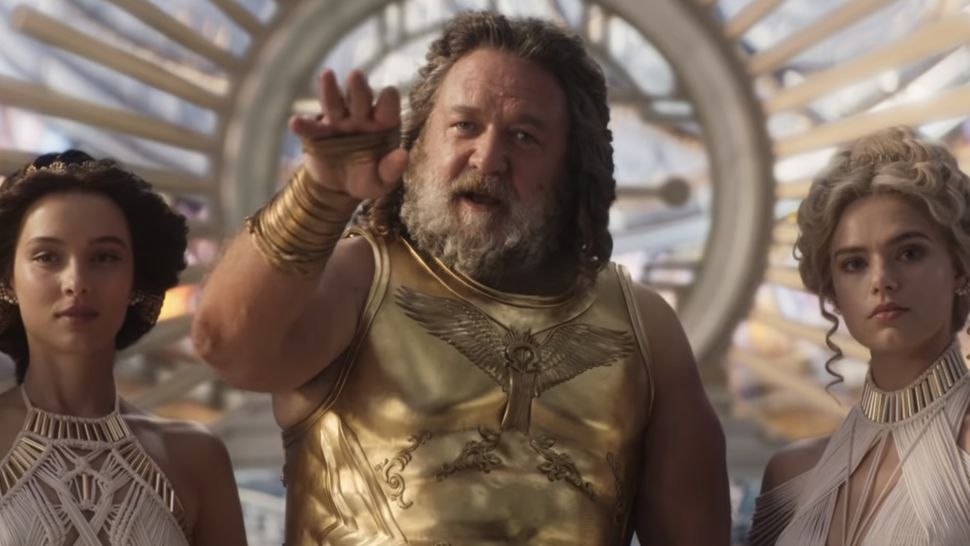 (opens in new tab)
In the post-credits scene in question, Zeus laments the downfall of the gods in the eyes of mortals, stating that he believes superheroes have replaced the gods as beings of reverence on Earth.
Zeus turns to none other than his son Hercules, played in the scene by Brett Goldstein of Ted Lasso fame. Though he only gets a moment onscreen, much like recent post-credits characters Eros (who debuted in Eternals) and Clea (who debuted in Doctor Strange in the Multiverse of Madness), Hercules is a Marvel Comics character with a pedigree going back decades as one of the '60s Avengers, and as a hero in his own right.
With Hercules now in the MCU, and Wonder Man reportedly in development for his own streaming series, Marvel Studios has finally tapped all the classic '60s Avengers from the team's first era for adaptation on the screen.
But what's Hercules' actual deal in Marvel Comics? Is he an enemy of Thor, as teased by Love and Thunder, despite his decades with the Avengers? We'll break it all down right now.
Hercules in the Marvel Universe
Interestingly enough, the first superhero version of Hercules appeared way back in 1945's Young Allies #16 by Marvel predecessor Timely Comics, meaning he's technically been around in the Marvel Universe longer than Thor. This Golden Age incarnation was later semi-incorporated in Marvel's modern version of the hero.
The current well-known version of Hercules debuted in 1965's Journey Into Mystery Annual #1 as a friendly rival for Thor – a relationship that would continue on in later stories. He quickly became an Avenger alongside the God of Thunder and has remained a Marvel staple off and on since.
In his time in the Marvel Universe, Hercules has gone through a few incarnations, from being a mythological adventurer to a gun-toting vigilante, and many different things in between.
(opens in new tab)
And in that time, along with the Avengers, Hercules has developed close relationships with everyone from Thor and the Avengers (naturally) to Wolverine of the X-Men, with whom he shares a hard-partying past, as well as Amadeus Cho, Bruce Banner's former boy-genius protégé turned Gamma-powered hero. For a while, Herc was even roommates with Gilgamesh of the Eternals while Gil was down on his luck.
It's Herc's general association with the Hulk mythos that led to his biggest Marvel Comics spotlight when he took over Hulk's title following the World War Hulk (opens in new tab) event, turning it into the fan-favorite Incredible Hercules (opens in new tab).
That saga culminated in Hercules' death, during which time Amadeus Cho took up Hercules' distinctive mace weapon to live up to his legacy as the so-called Prince of Power, Herc's own moniker.
Hercules remains part of the Marvel Universe, most recently adventuring alongside the Guardians of the Galaxy (not unlike the last time we saw Thor in the MCU), mentoring a young alien hero also known as Prince of Power.
Hercules in the MCU
Light spoilers for Thor: Love and Thunder ahead – so be warned.
In the aftermath of Thor: Love and Thunder, Chris Hemsworth remains the God of Thunder in the Marvel Cinematic Universe with Jane Foster seemingly waiting in the wings for a return (we won't go into it beyond that, don't worry).
So it seems less and less like the MCU needs any kind of replacement for Hemsworth's Thor, meaning that Hercules is apparently being set up as more of a rival for Thor than a replacement or sidekick.
(opens in new tab)
That's similar to how Thor and Hercules met, with Hercules challenging Thor for entry into Olympus. But in comics, the pair quickly became allies and even teammates among the Avengers – though they maintained a kind of friendly competition even as allies.
What's next for Hercules remains to be seen, though given Love and Thunder's declaration that "Thor will return" following the scene in the credits, it's a safe bet that he and Thor will cross paths somewhere, probably initially as enemies. If that's in a Thor 5, that will cement Thor's record as the most movie-worthy Marvel character yet, with only the Avengers franchise currently boasting the same amount of movies as the God of Thunder.
How will Hercules fit into that legacy? That remains to be seen.
Hercules has been part of some of the best Avengers stories of all time.