Update: Marvel has revealed its new Iron Fist … sort of. While the publisher is saying it's a "new hero" and has revealed his masked image, it also seems to be deliberating dancing around the issue of his identity and hasn't revealed his name.
There seems to be something more layered than just a brand new character going on here.
Marvel says his identity will be revealed in a new Iron Fist limited series debuting in February 2022.
To be continued…
Original story follows…
Yup, there's gonna be a new Iron Fist.
This week Marvel Comics has already released a Ghost Rider 50th anniversary/new Johnny Blaze ongoing series two-part teaser announcement for a new February 2022 title, and now it's out with yet another teaser series this time for Iron Fist, and this time it's a three-parter.
(opens in new tab)
On Friday morning the publisher released a 'Who is the new Iron Fist' teaser image with the presumed identity of the new mantle-holder blacked out, with Marvel promising more information later Friday.
"The dragon awakes February 2022," reads Marvel's tagline.
No other clues are apparent in the image, other than the figure appears to be male, and since it's blacked out that's some indication the character is already known to Marvel readers. But we'll find that out for sure later Friday.
As to what this means for the current, original, and longtime Iron Fist Danny Rand, in the recently concluded limited series Iron Fist: Heart of the Dragon (opens in new tab), both Danny and Pei passed along their Iron Fist powers to Wakanda's Okoye to defeat a villain. After their success, Okoye deposited the Iron Fist powers in an egg of Pei's dragon, Gork, who was being reborn as Gork the Undying – replacing Shou-Lao the Undying, the dragon from which the Iron Fist powers were previously taken from.
Yeah, you read that right – what a story.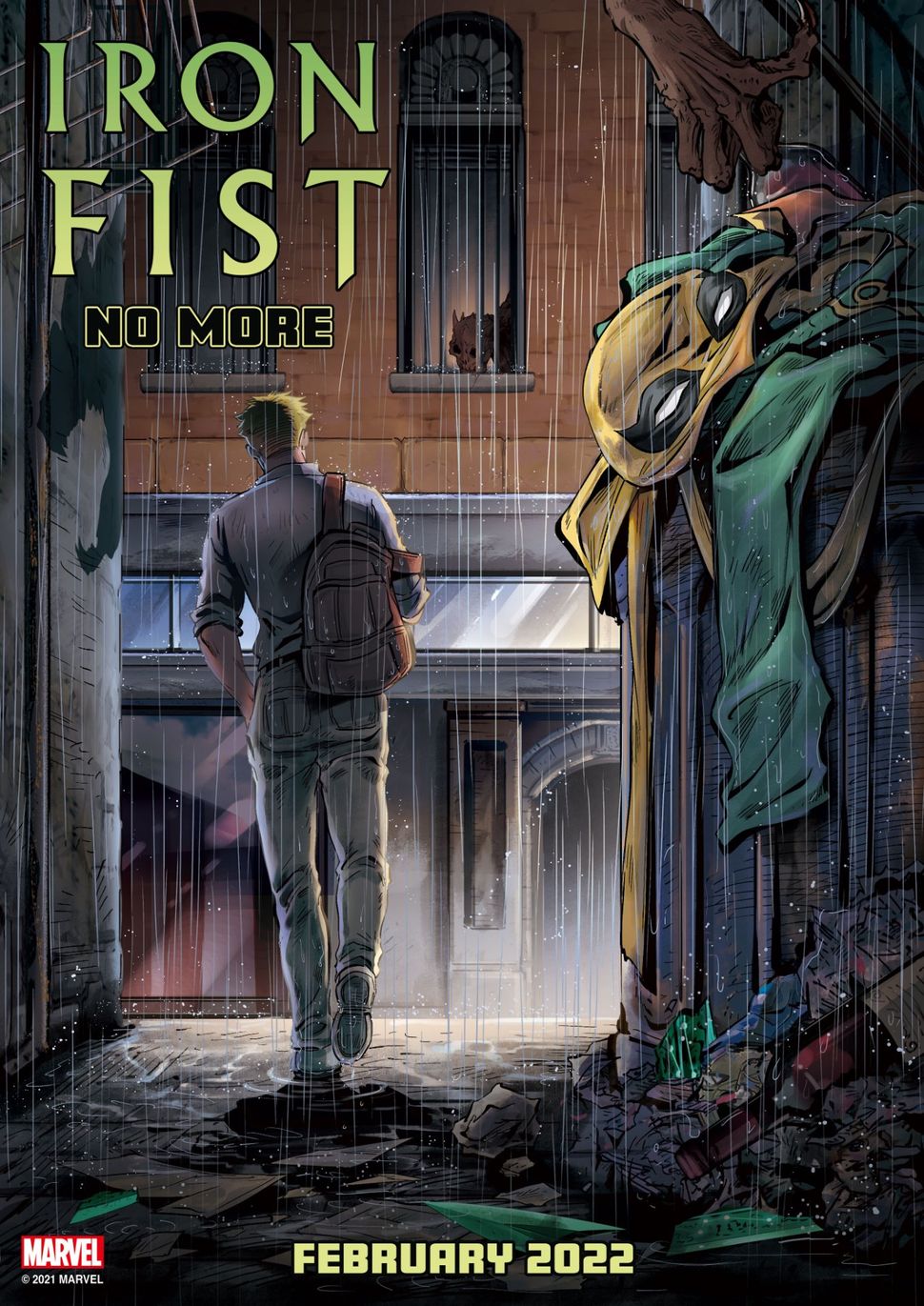 (opens in new tab)
At the end of Iron Fist: Heart of the Dragon, Danny continued to wear the Iron Fist costume – but when asked about his future plans by best friend and frequent partner Luke Cage, he replied that he planned to "live life to its fullest."
That now appears to include ditching the costume unceremoniously in a back alley trash can with the words 'Iron Fist No More,' a familiar image and phrase that of course is Marvel's latest homage to 1967's iconic Amazing Spider-Man #50 (opens in new tab) page in which Peter Parker dumps his costume into an alley trashcan.
Look for more information Friday afternoon, October 29, with the new February 2022 title or story arc fully revealed.
Check out all of Marvel Comics going on sale in November, December, and January on our Marvel and DC solicitations tab.