There have been some more movie dates moving around amid the ongoing strikes – both WGA and SAG/AFTRA. The latest to be pushed back are Dune 2 and Lord Of The Rings: The War Of The Rohirrim, which are both now releasing in 2024.
With so many films shifting, it can be hard to keep track of all of the new release dates. And while the second half of 2023 originally had a very exciting line-up, now it seems like there's an awful lot more uncertainty. That's where we come in though, as we try to help you make sense of it all.
From what's moving to what's staying put, we've broken down the big upcoming releases The Creator and the next big-screen MCU adventure in The Marvels. That's not to mention the new Martin Scorsese film Killers of the Flower Moon, which is also coming this autumn.
Looking further ahead, there's a new Quiet Place movie, Mad Max: Fury Road prequel Furiosa, and another Mission: Impossible installment – amongst much, much more. So, buckle in for our complete guide to all the best upcoming movies on the way in 2023 and beyond.
For more breakdowns, check out our guides to movie release dates in full and all the new TV shows coming our way soon.
The Nun 2
Release date: September 8, 2023
The Nun 2 is bringing scares back to the screen as it becomes the next installment in The Conjuring universe. This time around, the action is set four years after the end of the first movie as Sister Irene must face her fears once again. Now working at a boarding school in France, the demonic Valak (the Nun) is back to cause more havoc for Taissa Farmiga's character. It sounds like it's going to be chilling too as the director told us it's the "most violent" Conjuring movie yet. Eek!
The Creator
Release date: September 29, 2023
Directed by Monsters and Rogue One helmer Gareth Edwards, The Creator is high up on our watchlist. The epic sci-fi tackles the topic of the moment: AI. Set during a future war between the human race and artificial intelligence, an ex-special forces agent called Joshua (played by John David Washington) is given a haunting mission. He must track down and kill the Creator, who is the architect of the advanced AI. However, he soon discovers that the world-ending weapon he needs to destroy has taken the form of a young girl.
For more on the movie, check out what Edwards told us about the story's relevance in our Total Film cover feature.
The Exorcist: Believer
Release date: October 13, 2023
It's shaping up to be an autumn of horror at the movies. The Exorcist: Believer is next up, and it serves as a direct sequel to The Exorcist (1973). Directed by David Gordon Green, it follows the parents of demonically possessed girls who find themselves desperate for advice from someone with similar experiences. The one person who can help them? Chris MacNeil, played once again by Ellen Burstyn. Leslie Odom Jr., Ann Dowd, Jennifer Nettles, and Norbert Leo Butz all also star.
Killers of the Flower Moon
Release date: October 6, 2023
Martin Scorsese is back. Based on the best-selling book of the same name, his latest movie Killers of the Flower Moon is set in '20s Oklahoma and follows the serial murder of members of the oil-wealthy Osage Nation, a string of brutal crimes under mysterious circumstances that came to be known as the Reign of Terror.
Leonardo DiCaprio stars as Ernest Burkhart, the nephew of a powerful local rancher played by Robert De Niro, while Lily Gladstone plays his Osage wife Mollie and Jesse Plemons is Tom White, an agent from the newly formed FBI in charge of investigating the murders. The cast also includes Brendan Fraser and John Lithgow.
The Marvels
Release date: November 10, 2023
The Marvels, AKA Captain Marvel 2, will see Brie Larson's hero return alongside Iman Vellani's Ms. Marvel (confirmed by the Ms. Marvel post-credits scene) and WandaVision's Monica Rambeau, who becomes the hero Photon. Zawe Ashton has been cast as the movie's villain and Candyman helmer Nia DaCosta is in the director' chair. The movie was originally due out in July, and then September, but has been pushed back mutliple times by Marvel. We have a new teaser trailer to whet our appetite now, at least.
Next Goal Wins
Release date: November 17, 2023
Taika Waititi is back in the director's chair for the first time since Jojo Rabbit for Next Goal Wins, a sports comedy based on the 2014 documentary of the same name. Michael Fassbender plays Thomas Rongen, a soccer coach tasked with turning the American Samoan national team from one of the worst in the world to a World Cup qualifying squad.
The Hunger Games: The Ballad of Songbirds and Snakes
Release date: November 17, 2023
The Hunger Games spin-off The Ballad of Songbirds and Snakes arrives in November. The prequel follows Coriolanus Snow as he mentors a District 12 tribute during the 10th annual Hunger Games, only to develop feelings for her. The star-stacked cast includes Tom Blyth as Coriolanus, Hunter Schafer as Tigris Snow, Rachel Zegler as Lucy Gray Baird, Viola Davis as Dr. Volumnia Gaul, and Peter Dinklage as Casca Highbottom.
Napoleon
Release date: November 22, 2023
Ridley Scott's latest is Napoleon, a historical epic telling the troubled history of Napoleon Bonaparte. Written and directed by David Scarpa (who's also writing the upcoming Gladiator 2), it mainly focuses on the French leader's rise to power as well as his relationship with Empress Joséphine. If that wasn't enough to get you intrigued, Joaquin Phoenix and Vanessa Kirby are playing Napoleon and Joséphine, respectively.
Poor Things
Release date: December 8, 2023
Poor Things is the latest movie from The Favourite director Yorgos Lanthimos. Emma Stone stars as Bella, a Frankenstein's monster of sorts, brought back to life by an unorthodox scientist played by Willem Dafoe. She runs off with a debauched lawyer (Mark Ruffalo) and finds herself on a whirlwind adventure across continents in this off-beat, Gothic tale. The cast also includes Ramy Youssef, Jerrod Carmichael, Christopher Abbott, and Margaret Qualley.
Wonka
Release date: December 15, 2023
Timothée Chalamet is an all-singing, all-dancing chocolatier in new origin story Wonka. Plot details are still being kept under wraps, but we know that the movie will focus on Willy Wonka's early days before he opened his infamous chocolate factory. The supporting cast includes Olivia Colman, Rowan Atkinson, Keegan-Michael Key, and Sally Hawkins, and Paddington director Paul King is helming the project.
Aquaman and the Lost Kingdom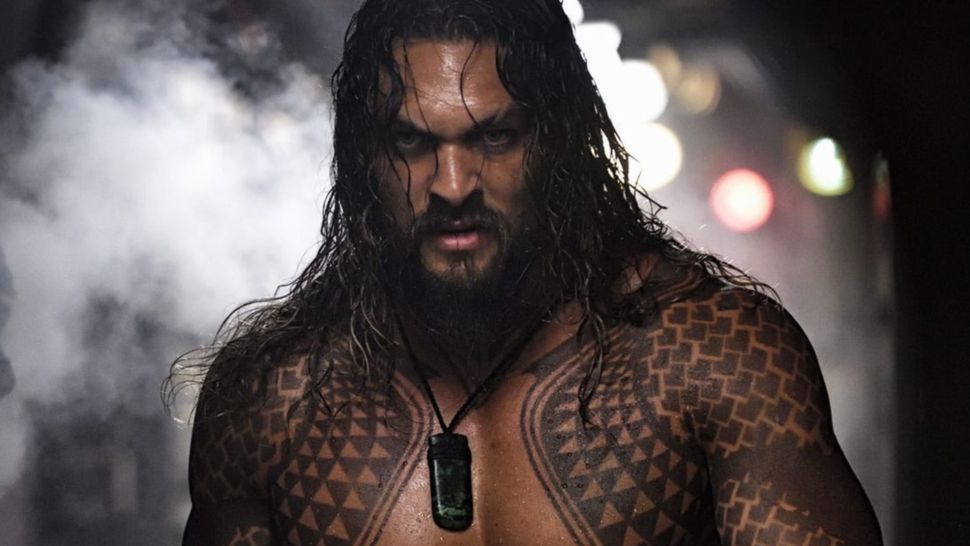 Release date: December 20, 2023
James Wan returns to direct Aquaman And The Lost Kingdom. Never mind that The Conjuring director's proposed solo Black Manta movie (under the guise of monster spin-off The Trench) has been canceled: Yahya Abdul-Mateen II's David Kane/Manta continues to seek vengeance on Aquaman in the sequel to the 2018 hit, which had more legs with ticket-buyers than an octopus on drums. Alongside Dolph Lundgren, Patrick Wilson, and Amber Heard, Jason Momoa plunges back in, this time in a darker, bluer "stealth" suit styled after cephalopods' camouflage skills.
Wan promises "a movie that's more mature [than Aquaman] but yet still retains its fun," while producer Peter Safran reiterates the series' faith in excess: "We have turned the dials up to 11." Next to Safran's Spinal Tap nod, Wan references horror movies with promises of both genre elements and nods to Planet of the Vampires, Mario Bava's stylish, proto- Alien 1965 shocker.
Also perhaps involved is lost underwater kingdom Necrus, plus a monster or 10. Concept art netted for FanDome ranges from sand creatures to toothy undersea tentacles and Curry riding a seahorse. But it wasn't all smooth riding for Momoa: "I'm just getting beat up," he lamented to The Ellen Show of the physically testing shoot. Sounds like DC isn't pulling its punches here.
Rebel Moon
Release date: December 22, 2023
Rebel Moon, Zack Snyder's new sci-fi epic, centers around a peaceful colony at the edge of space whose lives are turned upside down when they're attacked by the armies of a brutal dictator. The colony sends Kora, played by Sofia Boutella, as an envoy to seek help from neighboring planets. The ensemble cast also includes Charlie Hunnam, Anthony Hopkins, Corey Stoll, Djimon Hounsou, Cary Elwes, Jena Malone, Doona Bae, and Ray Fisher. The movie is a two-parter and a sequel, Scargiver, is out on April 19.
Ferrari
Release date: December 25, 2023
Adam Driver plays Enzo Ferrari in the new biopic from Michael Mann. Set during the summer of 1957, it finds the ex-Formula 1 racer in crisis as bankruptcy beckons and his tempestuous marriage struggles after the death of his son. Amid the chaos, he bets everything on one race: the treacherous Mille Miglia, a 1,000-mile race across Italy.
A Quiet Place: Day One
Release date: March 8, 2024
The plot of A Quiet Place: Day One may still be underwrap, but we're already getting excited about the spin-off. The cast of the Michael Sarnoski-directed project includes Lupita Nyong'o, Joseph Quinn, and Alex Wolff. Filming has kicked off on the movie already.
Dune: Part Two
Release date: March 15, 2024
We're going back to Arrakis. Timothée Chalamet returns as Paul, who's teamed up with Chani (Zendaya) and the Fremen to prevent a terrible future, all the while trying to wreak revenge on the people responsible for the murder of his family. Chalamet will be joined by returning cast members Rebecca Ferguson, Javier Bardem, Josh Brolin, Stellan Skarsgård, and Dave Bautista, along with newcomers Florence Pugh, Austin Butler, Christopher Walken, and Léa Seydoux.
The film was originally due out on November 3, 2023, but has been pushed back amid ongoing strikes.
Spider-Man: Beyond the Spider-Verse
Release date: No release date
The final installment in the Spider-Verse trilogy will pick up where we left off with Miles Morales and co. at the end of Spider-Man: Across the Spider-Verse. Miles (Shameik Moore) may be trapped in the wrong universe with the Prowler, but luckily Spider-Gwen (Hailee Steinfeld) and a whole host of familiar Spidey faces have teamed up and are ready to save him. Not much else is known about the plot at this point, though. The movie was due out on March 29, 2024, but it's now been delayed indefinitely.
Deadpool 3
Release date: May 3, 2024
Ryan Reynolds returns as the Merc with the Mouth in Deadpool 3 – and he's set to be joined by some familiar faces. Namely, Hugh Jackman as Wolverine and Jennifer Garner as Elektra, as these characters join Wade Wilson in making their debut in the MCU. Shawn Levy has taken over as director for the third installment, and The Crown's Emma Corrin and Succession's Matthew Macfadyen have also been cast in undisclosed roles. This release date could still change after filming has been paused on that.
Furiosa
Release date: May 24, 2024
George Miller is back in the director's chair with Mad Max prequel Furiosa, with Anya Taylor-Joy taking on the title role of Imperator Furiosa – a younger version of the character played by Charlize Theron in Fury Road who finds herself in the hands of a Biker Horde led by the Warlord Dementus. Chris Hemsworth and Tom Burke are also set to star, but their roles are still being kept under wraps.
Mission: Impossible – Dead Reckoning Part Two
Release date: June 28, 2024
Tom Cruise is back as Ethan Hunt for what seems like the final time. With Christopher McQuarrie back at the helm, the franchise's eighth movie follows directly on from 2023's Dead Reckoning Part One. Cruise will be joined by Ving Rhames, Henry Czerny, Simon Pegg, Vanessa Kirby, Hayley Atwell, and Pom Klementieff.
Captain America: Brave New World
Release date: August 26, 2024
Captain America is back – and there's a new hero wielding the red, white, and blue shield. Sam Wilson (Anthony Mackie) has taken over the mantle for Captain America: Brave New World after Chris Evans' Steve Rogers gave up the title in Avengers: Endgame. Sam's decision to pick up the shield in Disney Plus series Falcon and the Winter Solider was a controversial one, so he's likely to meet his fair share of adversity in his first big-screen outing in the role. Danny Ramirez, Harrison Ford, Tim Blake Nelson, and Liv Tyler also star.
Kraven the Hunter
Release date: August 30, 2024
We were originally supposed to meet Aaron Taylor-Johnson's Sergei Kravinoff in October 2023, but the new Marvel movie is one of several delayed releases. The new movie follows the anti-hero as he sets out to prove he's the greatest hunter in the world. From what we've seen in the trailer, we're expecting one of the most violent takes in the Sony Marvel universe so far.
Joker: Folie à Deux
Release date: October 4, 2024
Joaquin Phoenix returns as Arthur Fleck in Joker 2, officially titled Joker: Folie à Deux. This is a French term that translates to "shared madness" and is also used to refer to shared delusional disorder, a psychiatric syndrome in which symptoms of a delusional belief, and sometimes hallucinations, are transferred from one person to another. The title makes more sense when you factor in the addition of Harley Quinn, played by Lady Gaga, a psychiatrist who falls in love with Arthur. Zazie Beetz will reprise her role from the first movie, while Brendan Gleeson and Catherine Keener have joined the cast in undisclosed roles.
Blade
Release date: February 14, 2025
Mahershala Ali takes on the role of the vampire-hunting antihero in Blade, after making a voice cameo in the post-credits scene of Eternals. Mia Goth, Delroy Lindo, and The Underground Railroad's Aaron Pierre are also part of the cast and Stacy Osei-Kuffour, who previously worked on HBO's Watchmen series, is on screenwriting duties. Mogul Mowgli helmer Bassam Tariq was originally in the director's chair, but he's now been replaced by Lovecraft Country's Yann Demange.
---
For more on what's to come, check out our guide to all the new Marvel movies and shows heading your way soon.
<div